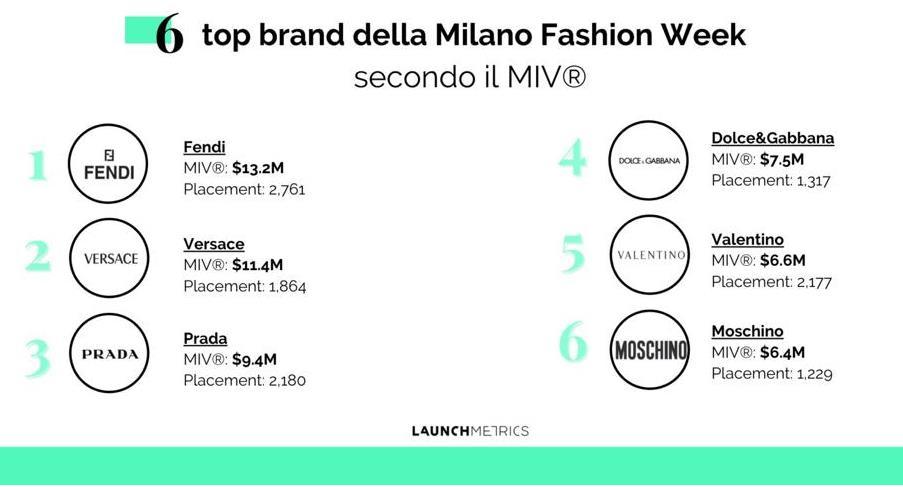 La comunicazione alleata della moda
La notizia arriva da Launchmetrics, la piattaforma per le industrie fashion, luxury e beauty che monitora i trend del settore e non lascia spazio a dubbi: la comunicazione può salvare la moda. A dimostrarlo è proprio una classifica di Launchmetrics che include sei brand. I primi, nell'ordine, sono Fendi e Versace che hanno registrato un media impact value di oltre 10 milioni di dollari. Seguono Prada, Dolce&Gabbana, Valentino e Moschino. Insomma, a limitare le ripercussioni economiche causate dall'emergenza sanitaria possono essere proprio i media. La conferma arriva da quello che può essere definito il "caso Versace". La maison, per il lancio della sua collezione primavera-estate 2021 ha organizzato una sfilata a porte chiuse la cui protagonista è stata la modella Irina Shayk che ha pubblicato un estratto dello show sul proprio canale Instagram. Ebbene, questo ha fatto in modo che il brand raggiungesse il più alto placement per un valore di quasi 400mila dollari. Fondamentale è stato anche l'hashtag utilizzato per l'evento: #Versacepolis ha generato da solo 6,5 milioni di dollari di "effetto mediatico". Dolce & Gabbana, al quarto posto, con il suo show ha realizzato un "impatto" pari a 7,5 milioni di dollari. Quanto a Fendi, il media impact value si attesta sui 13 milioni di dollari, con un balzo del 58% rispetto alla stagione precedente, grazie soprattutto all'investimento sui media e sui fashion blog.
—
Communication can save fashion. This is confirmed by Launchmetrics, the platform for the fashion, luxury and beauty industries that monitors industry trends. The ranking includes six brands. The first, in order, are Fendi and Versace, which recorded a media impact value of over 10 million dollars. Followed by Prada, Dolce & Gabbana, Valentino and Moschino. In short, the media can limit the economic repercussions caused by the health emergency. The confirmation comes from what can be called the "Versace case". The maison, for the launch of its spring-summer 2021 collection, organized a closed-door fashion show whose protagonist was the model Irina Shayk who published an excerpt of the show on her Instagram channel. Well, this made sure that the brand reached the highest placement for a value of almost 400 thousand dollars. The hashtag used for the event was also fundamental: #Versacepolis alone generated 6.5 million dollars of "media effect". Dolce & Gabbana, in fourth place, with its show made an "impact" equal to 7.5 million dollars. As for Fendi, the media impact value stood at 13 million dollars, with a leap of 58% compared to the previous season, thanks above all to the investment in media and fashion blogs.