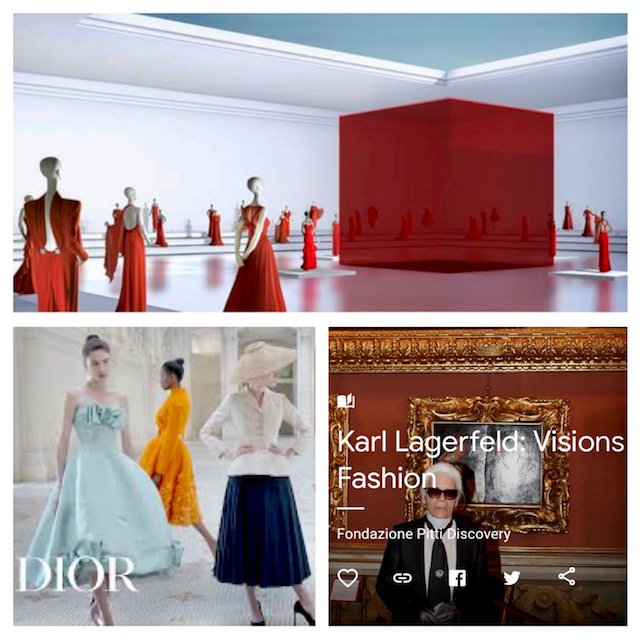 La moda si mette in mostra, online
Da Valentino a Dior, passando per Karl Lagerfeld. Le griffe si mettono in mostra, ma virtuale. Quella dell'esperienza digitale è una occasione unica per poter visitare le esposizioni dedicate alle maison in attesa che i musei riaprano. Valentino Garavani e Giancarlo Giammetti hanno annunciato il lancio del "Valentino Garavani Virtual Museum". Una digital experience che illustra per la prima volta cinquant'anni di storia della moda. Valentino Garavani è il primo stilista internazionale a curare una mostra permanente dei propri capolavori in formato digitale. I contenuti sono disposti come in un museo e gli utenti possono esplorare le varie gallerie e sale che ricoprirebbero una superficie equivalente a oltre 10.000 metri quadri di un effettivo museo. Più di 300 abiti provenienti dagli archivi di Valentino Garavani sono stati fotografati e ordinati per tema. Bozzetti, illustrazioni, campagne pubblicitarie, editoriali, immagini di eventi e red carpet raccontano la storia di ogni abito. Eventi speciali e mostre legati alla storia della coppia vengono celebrati con fotografie e videoclip: dalla White Collection del 1968 al White Fairy Tale Love Ball del 2011. L'applicazione include anche una media library in cui sono catalogate oltre 5000 immagini – abiti, foto, disegni – e 95 video di sfilate. La stessa magia la fa rivivere Dior. A luglio 2017, il Museo di arti decorative di Parigi ha inaugurato la mostra "Christian Dior, couturier du rêve", la più grande mai dedicata al celebre stilista. Settant'anni di creazioni e più di 300 abiti di alta moda, che hanno segnato la storia della famosa maison francese. Adesso, ci si può, seppur virtualmente, immergere nelle immagini e nei video che puntano dritto al cuore di questa retrospettiva unica dove, Monsieur Dior, Yves Saint Laurent, Marc Bohan, Gianfranco Ferré, John Galliano, Raf Simons e Maria Grazia Chiuri si incontrano. Quanto a Karl Lagerfeld, consente di immergersi nello scenario di Palazzo Pitti, ripercorrendo le tappe di una carriera che ha segnato la storia della moda.
 —
 From Valentino to Dior, passing through Karl Lagerfeld. The brands are put on display, but virtual. The digital experience is a unique opportunity to visit the exhibitions dedicated to the fashion houses while waiting for the museums to reopen. Valentino Garavani and Giancarlo Giammetti have announced the launch of the "Valentino Garavani Virtual Museum". A digital experience that illustrates for the first time fifty years of fashion history. Valentino Garavani is the first international designer to curate a permanent exhibition of his masterpieces in digital format. The contents are arranged as in a museum and users can explore the various galleries and rooms that would cover an area equivalent to over 10,000 square meters of an actual museum. More than 300 dresses from the Valentino Garavani archives were photographed and sorted by theme. Sketches, illustrations, advertising campaigns, editorials, event images and red carpets tell the story of each dress. Special events and exhibitions related to the couple's history are celebrated with photographs and video clips: from the 1968 White Collection to the 2011 White Fairy Tale Love Ball. The application also includes a media library in which over 5000 images are cataloged – clothes, photos, drawings – and 95 fashion show videos. The same magic brings Dior back to life. In July 2017, the Paris Museum of Decorative Arts inaugurated the "Christian Dior, couturier du rêve" exhibition, the largest ever dedicated to the famous designer. Seventy years of creations and more than 300 high fashion dresses, which have marked the history of the famous French maison. Now, you can, albeit virtually, immerse yourself in the images and videos that point straight to the heart of this unique retrospective where Monsieur Dior, Yves Saint Laurent, Marc Bohan, Gianfranco Ferré, John Galliano, Raf Simons and Maria Grazia Chiuri meet. As for Karl Lagerfeld, it allows you to immerse yourself in the scenario of Palazzo Pitti, retracing the stages of a career that has marked the history of fashion.