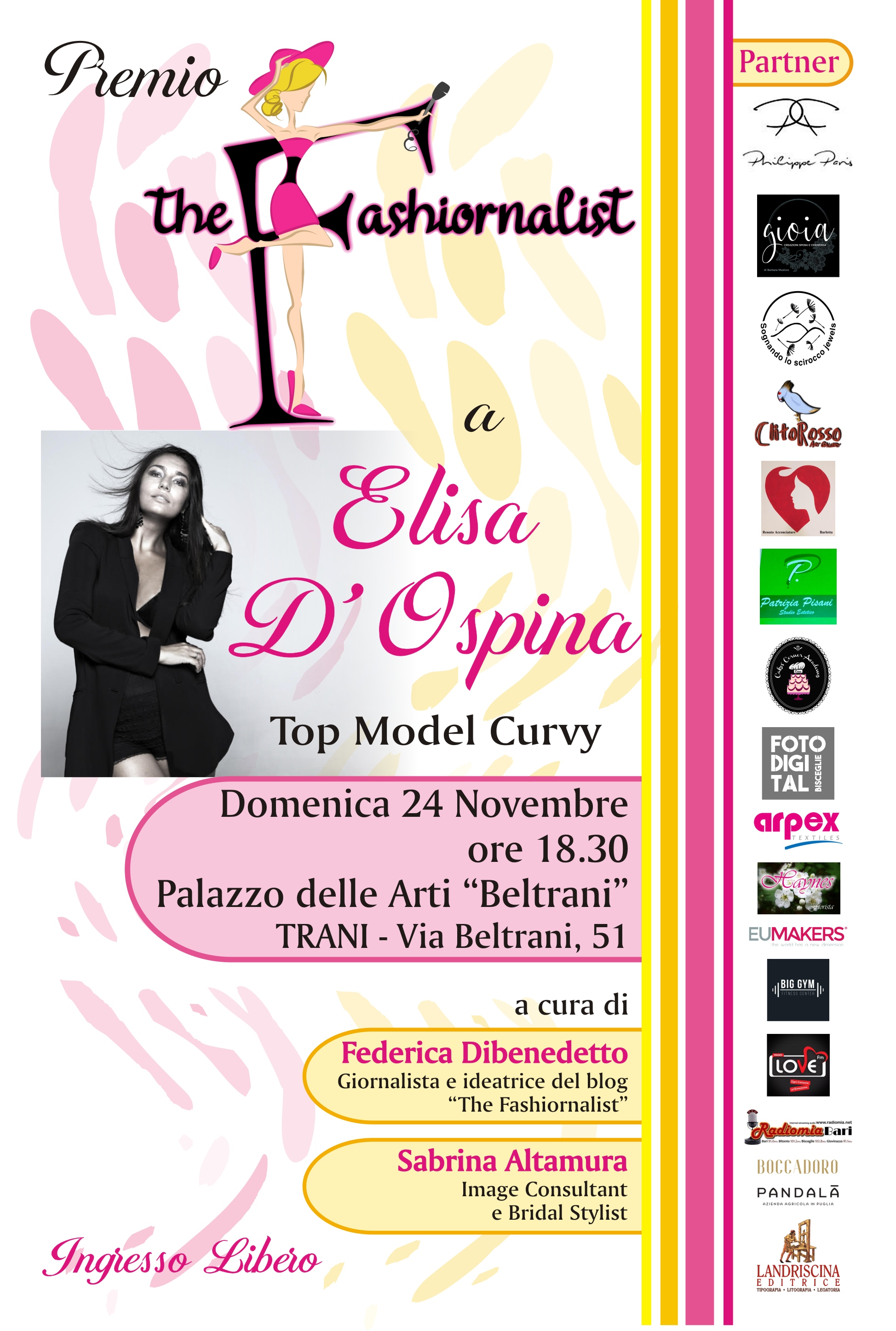 A Elisa D'Ospina il premio "The Fashiornalist"
Sarà consegnato a Elisa D'Ospina il premio "The Fashiornalist". La prima edizione dell'evento, a ingresso libero, si svolgerà domenica 24 novembre alle ore 18.30 a Trani nello scenario di Palazzo Beltrani e vedrà protagonista la top model curvy che coniuga la passione per le passerelle con l'impegno nella lotta contro i disturbi alimentari. Elisa D'Ospina ha iniziato la sua carriera di modella nel 2007 collaborando con Vogue.it ed è attualmente testimonial per il Ministero della Salute oltre che tutor nel programma di Rai2 "Detto Fatto".
«Non potevamo che dedicare a lei questa prima edizione della manifestazione – dice Federica Dibenedetto, giornalista e ideatrice del blog "The Fashiornalist" – per l'importante contributo quotidiano finalizzato a scardinare i canoni tradizionalmente attribuiti al mondo della moda. A questo, nel corso della serata si aggiungeranno le storie di donne che ogni giorno lottano per i loro sogni raggiungendo traguardi importanti lontani da ogni stereotipo».
Tra moda e spettacolo, la serata rappresenterà anche un'occasione per anticipare le nuove tendenze. «Rilanceremo il messaggio – afferma Sabrina Altamura, image consultant e bridal stylist – dell'importanza di uno stile personale in base alle caratteristiche di ciascuno. Dagli abiti al make-up, dall'hair style al bridal, tutto deve essere incentrato sulle peculiarità personali. Ne parleremo insieme con l'obiettivo di valorizzare ogni donna, senza esclusione alcuna».
L'omaggio all'universo femminile sarà offerto anche dall'allestimento artistico a cura di Daniela Raffaele, in arte "Clitorosso", con l'esposizione della collezione "Città liquide" che esprime, come spiega il critico d'arte Carmelo Cipriani, «una tensione ideale che travalica la pura e semplice godibilità di un paesaggio per farsi messaggio di inquietudini e di forti emozioni».
Culmine della serata, un flash mob che rappresenterà l'impegno condiviso affinché  la "Giornata internazionale per l'eliminazione della violenza contro le donne", individuata dall'ONU il 25 novembre, possa quanto prima rendersi non più necessaria proprio perché il vero obiettivo potrà dirsi raggiunto solo quando non ci sarà più bisogno di istituire una ricorrenza che di anno in anno delinea i contorni di un fenomeno che continua a mietere vittime.
—-
The "The Fashiornalist" award will be given to Elisa D'Ospina. The first edition of the event, with free admission, will take place Sunday, November 24th at 6.30pm in Trani in the scenario of Palazzo Beltrani and will see the curvy top model as protagonist who combines the passion for the catwalks with the commitment in the fight against eating disorders . Elisa D'Ospina started her modeling career in 2007 collaborating with Vogue.it and is currently testimonial for the Ministry of Health as well as tutor in the Rai2 program "Detto Fatto".
"We could only dedicate this first edition of the event to her – says Federica Dibenedetto, journalist and creator of the blog" The Fashiornalist "- for her important daily contribution aimed at undermining the canons traditionally attributed to the world of fashion. To this, in the course of the evening will be added the stories of women who every day fight for their dreams reaching important goals far from any stereotype ».
Between fashion and entertainment, the evening will also be an opportunity to anticipate new trends. "We will relaunch the message – says Sabrina Altamura, image consultant and bridal stylist – of the importance of a personal style based on the characteristics of each one. From clothes to make-up, from hair-style to bridal, everything must be focused on personal peculiarities. We will talk about it together with the aim of enhancing every woman, without any exclusion ».
The tribute to the female universe will also be offered by the artistic exhibition curated by Daniela Raffaele, aka "Clitorosso", with the exhibition of the "Liquid Cities" collection which expresses, as art critic Carmelo Cipriani explains, " an ideal tension that goes beyond the pure and simple enjoyment of a landscape to become a message of anxieties and strong emotions ».
The climax of the evening, a flash mob that will represent the shared commitment so that the "International Day for the Elimination of Violence against Women", identified by the UN on November 25, may sooner or later no longer be necessary precisely because the real goal will be say to be achieved only when there is no need to establish a recurrence that outlines the contours of a phenomenon that continues to claim victims from year to year.