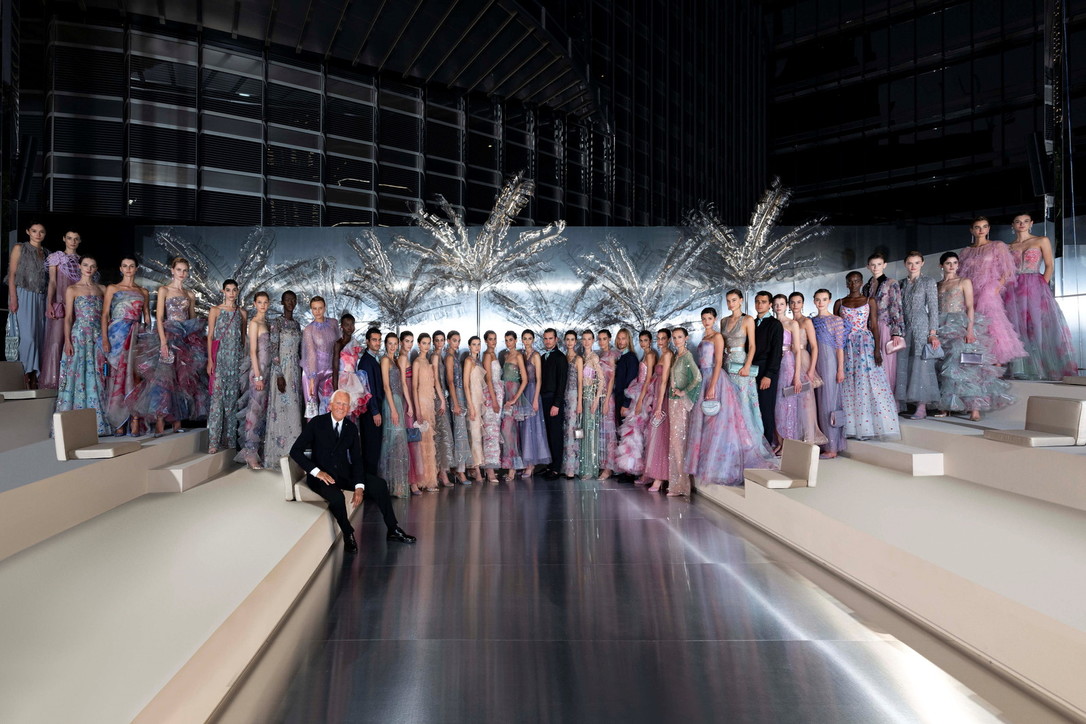 La magia di Armani a Dubai
Giorgio Armani è tornato dopo undici anni a Dubai per celebrare, con una nuova tappa delle "One Night Only", il decimo anniversario dell'apertura degli Armani hotel. "Il Middle East è la culla di una nuova concezione di lusso, sinonimo di continua evoluzione e sperimentazione – ha spiegato Armani – capace di attingere alle radici e alla magia di una cultura ricca e profonda per dar vita a una nuova energia creativa". Location dell'evento, l'Armani Hotel Pavilion, che si trova all'interno dell'iconico grattacielo Burj Khalifa. "One Night Only Dubai" ha avuto inizio con la sfilata della collezione Giorgio Armani uomo e donna primavera estate 2022 e di una selezione di look di Alta Moda Giorgio Armani Privé della collezione "Shine" autunno inverno 2021-22. Allo show è seguita una speciale live performance di Chris Martin dei Coldplay. L'evento si è svolto in concomitanza con Expo 2020, l'esposizione universale inaugurata lo scorso primo ottobre, ed è stato progettato in modo da minimizzare il suo impatto ambientale.
——
Giorgio Armani returned to Dubai after eleven years to celebrate, with a new stage of the "One Night Only", the tenth anniversary of the opening of the Armani hotels. "The Middle East is the cradle of a new concept of luxury, synonymous with continuous evolution and experimentation – explained Armani – capable of drawing on the roots and magic of a rich and profound culture to give life to a new creative energy". Location of the event, the Armani Hotel Pavilion, located inside the iconic Burj Khalifa skyscraper. "One Night Only Dubai" began with the Giorgio Armani men's and women's spring summer 2022 fashion show and a selection of Giorgio Armani Privé high fashion looks from the "Shine" fall winter 2021-22 collection. The show was followed by a special live performance by Chris Martin of Coldplay. The event took place in conjunction with Expo 2020, the universal exhibition inaugurated last October 1st, and was designed in such a way as to minimize its environmental impact.